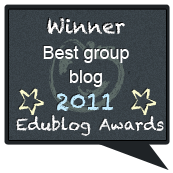 All of the students and teachers involved in Our World, Our Stories were thrilled to disover that we won the Edublog Award for the best group blog!
This recognition is a sublime way to finish our project. It demonstrates to the education community what students and teachers can achieve when they work together.
To Edublogs, we want to say thank you for providing us with this blog to help us create our collaborative project.
To everyone who followed our project and voted for us, we say