Archive for
December, 2011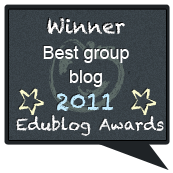 All of the students and teachers involved in Our World, Our Stories were thrilled to disover that we won the Edublog Award for the best group blog!
This recognition is a sublime way to finish our project. It demonstrates to the education community what students and teachers can achieve when they work together.
To Edublogs, we want to say thank you for providing us with this blog to help us create our collaborative project.
To everyone who followed our project and voted for us, we say
The Our World, Our Stories project has been running for nearly seven weeks and it has been an amazing experience.
Each week, we have blogged, commented and conversed about a wide range of topics.
Week One: Typical School Day
Week Two: Recess Activities
Week Three: Food
Week Four: Our Local Environment
Week Five: Traditional Stories and Festivities
Week Six: Traditional Song
Whoever You Are
The students worked together to create this reading of Mem Fox's story, Whoever You Are.
This story reminds us that even though everyone in the world is very different, we are all equal.
Tolerance and understanding are very important virtues to develop, and can help to create a world full of peace, productivity and pleasure!
Simply press the play button to hear the story and use the arrows to turn the pages that don't automatically advance.
Make New Friends
Nothing brings people together like a song. Here are the lyrics, sing along!
1. Make new friends, but keep the old, one is silver and the other is gold.
2. A circle is round, it has no end, that's how long I will be your friend.
3. A fire burns bright, it warms the heart, we've been friends from the very start.        
4. You have one hand, I have the other, put them together, we have each other.
5. Silver is precious, gold is too, I am precious and so are you.
6. You help me, and I'll help you, and together we will see it through
7. The sky is blue, the Earth is green, I can help to keep it clean.
8. Across the land, across the sea, friends forever we will always be.
*     *     *
The students have learnt so much about our world and developed their understanding of different ways of living.
The Our World, Our Stories project has proved that even though the world is a big place, technology can help make it smaller. Our classrooms are not bound by four walls and we have a whole world full of students, teachers and community members to learn from and with!
Leave a comment and share something you have learnt or something you have enjoyed about Our World, Our Stories.
The Grade 2/3s have really enjoyed everyone's songs this week and wanted to share a traditional Canadian song with you.
Our song is a combination of My Paddle's Keen and Bright and Land of the Silver Birch. They are traditional Canadian folk songs that were often sung while paddling in a canoe. The paddlers would use the beat of the song to help them paddle in unison. The two songs are partner songs (Two songs that can be sung together at the same time).
Have you ever paddled in a canoe before?
Can you think of any other times that songs are used to keep the beat?